Discover Your Ancestors Periodical – published every month
Discover your ancestors for just over £2 a month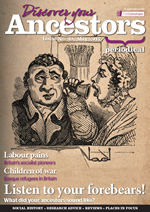 Launched in May 2013 Discover Your Ancestors Periodical is a high quality monthly digital magazine delivered to your own personalised online account every month. This beautifully designed 30+ page online magazine is packed full of stories, case studies, social history articles and research advice. This regular and affordable service is a must have for anyone starting out in family history research or for those with more experience but who have reached brick walls.
Rich, deep content for family history researchers, all year round
We have two critically acclaimed publications available to family history researchers – the annual print magazine, Discover Your Ancestors and the monthly online magazine, Discover Your Ancestors Periodical. These publications have been designed and written by our team of best in class journalists to support and guide you through your family history journey.
Perfect for those starting out or for those with more experience who have hit a brick wall
Start your journey with us for just £2.08 a month
One reader recently wrote to us: "I am reading Discover Your Ancestors. Fantastic magazine. Probably one of the best I have read." See what other readers say here.
Subscribe Today
September 2021 Offer
In this issue:
Contraband! Smugglers are the stuff of legends – but what was the reality behind the armed gangs and hidden caves of popular imagination? Jayne Shrimpton investigates
Commanders of the slave castles: Nell Darby tells the sorry story of Cape Coast Castle and the men who ran this African fort and others like it
From watchmakers to record-breakers: Nick Thorne delves into a family for whom timing was very important
The Mallet: a slammer with many stories: Stephen Roberts breaks into the history of Shepton Mallet's old prison, which at its peak held nearly 200 high-risk prisoners
The homecoming: Lynsey Ford commemorates Charlie Chaplin's triumphant return to the UK 100 years ago
History in the details: Materials – linen (part 1)
Sign up today for only £24.99 and receive the following:
12 monthly issues of the Periodical
Access to 500,000,000 birth, marriage and death records
Free data: Titanic passenger list
Free ebook: Berkshire, 1931 Kelly's Directory
Subscribe Today
Visit us at The Family History Show
We run several events across the country throughout the year in London, York and the South West. Our aim is to offer engaging events that bring family historians, societies and genealogical organisations together, making the search for your family history educating and enjoyable with captivating events accessible for people of all ages. Each show features:
Large Lecture Theatres with Free Talks
Free Ask the Experts Area
Societies, Archives and Commercial stands
Free Parking
Refreshments available all day
Our next show is on