Back to Sample Articles
The new TreeView
The latest version of TreeView now allows you to work from the convenience of your home computer, as Chris Paton explains
One of the most important decisions that we need to make when carrying out our family history research  is the means by which we collate the information that we discover. There are many software programs that can help us to do this, but very few constitute the holy grail of the genealogy world – a program that not only does the job, and does it well, but one which also does it for free.
For some time the TreeView family tree builder has ticked all of these boxes, and more. Originally launched on TheGenealogist website at www.thegenealogist.co.uk, the program has subsequently also been made available via an app for Apple and Android-based tablet and phone devices, and on its own dedicated standalone platform at www.treeview.co.uk. Now, in a major new development, the program can also be installed on a home computer (PC and Mac), further permitting users to work on their trees when offline, and with many added features. Best of all, this new version of the program will permit changes made on a tree created at home to be synced to its online hosted equivalents, and vice versa, making it one of the most versatile family tree software products now available.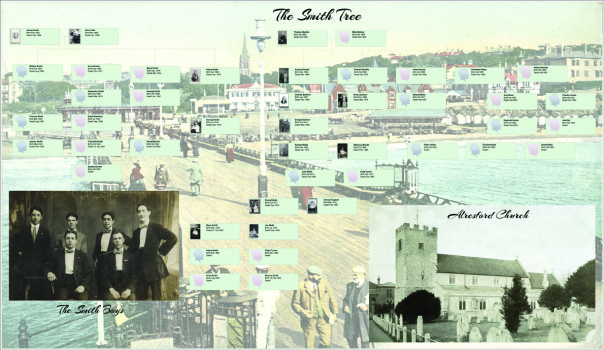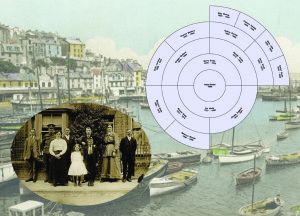 To give you a chance to try out this exciting new development Discover Your Ancestors Issue 5 has included a free version of the software with the cover mounted DVD. This will also give you 30 days to explore some of the key features of the new enhanced Premium Edition version of the program.
Showcase Your Data
TreeView can create a variety of beautiful charts, including Pedigree, Ancestors, Descendants, Hourglass, Fan (pictured below), Circle and even a 'Full Tree' (pictured above) showing everyone on one chart! There is a host of options available, such as the ability to add foreground or background images, selecting which facts to display, and of course, the ability to drag and drop individuals anywhere you want them. TreeView also has a range of reports that you can produce; from Individual or a Family report to a detailed Narrative report (great for publishing your own family history book!). Charts and Reports can be saved out to PDF (Handy if you want to send to relatives or a printer). Reports can also be saved out as RTF, allowing you to edit it in any word processor.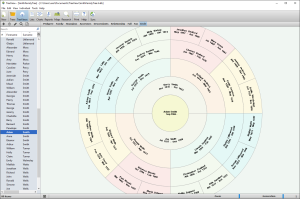 Essential tools
TreeView offers a wide variety of tools to help you create a family tree file to store all those births, marriages and deaths that you might find while doing your ancestral research. Having installed the program from the DVD and opened it, clicking on the 'New' button will present you with the options to create a completely new family tree, to import a tree from a GEDCOM file (a standard genealogy record file recognised by many programs), or to sync with a tree already hosted on the online version of TreeView. Once decided, you can then choose whether all future changes to your tree should be automatically synced to the same program on your tablet and your online account.
Navigating around TreeView is extremely straightforward, with the program providing several ways to access the main family tree chart on the dialogue screen. Options include a pedigree format based chart (from the left to the right of the screen), an individual family view, hourglass, ancestors and descendants views, and the all important 'full' view to really impress your relatives, where you can illustrate how everyone is related to everyone else! Information for individuals within your tree may be easily updated by simply right clicking on the person's profile box to produce a menu that allows for the addition of a spouse, parent or child, a different chart view, or the ability to edit other information for the person. The chart can be zoomed into or widened out using the control at the base of the page, or with a wheel button on your mouse, if one is available.
A vast variety of fact options can be added to each individual to help create a timeline for their respective stories – as well as basic names, dates and places, other events might include occasions such as baptisms, bar mitzvahs, emigration dates and graduations. Detailed notes on individuals can also be maintained, along with relevant addresses where individuals currently reside, or once resided, as well as those all important source citations, to reference the various documents and sources from which you have obtained your information. Unlimited document images and photographs can also be added to the program for each person.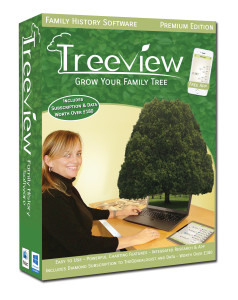 Premium features
TreeView also provides various report and chart generating options. The Charts dialogue box, for  example, allows for the creation of a range of fully customisable family tree diagrams, to which you can add your own background images and blocks of text to really enhance the final product. Similarly, TreeView also allows for a range of genealogy reports to be created, detailing each generation with all the information that has been painstakingly added to the database over time. The ability to print or export these files is disabled on the free edition of TreeView, but the free 30-day trial for the Premium Edition features will allow you to explore this and other options.
In addition to unlocking certain extra features for the software itself, the Premium Edition of TreeView also permits interaction with holdings and features on TheGenealogist website, at which point the whole user experience substantially escalates. One of TreeView's key enhanced features is its ability to make automatic searches within TheGenealogist's data collections, to see whether any of the site's records match individuals within your family tree. If such documents do indeed match up they can be saved from the site to the program as 'exhibits'. The Premium Edition also permits users to use various powerful social networking options on TheGenealogist website. You can search other people's trees if they have made them public, for example, and if a connection is suspected then contact them directly to see if you might be related. Alternatively, should you wish to keep your tree private, you can invite  individuals to view the site online and discuss your findings.
The Premium Edition of TreeView is priced at just £39.95, and in addition to the fully-unlocked version of the software a range of bonus offerings are also available. These include a fourmonth Diamond Subscription to TheGenealogist, a printed quick start guide, data CDs containing records of British and Irish landowners from 1873 and 1876, and an 1893 Gazetteer for the British Isles.
---
Taken from our print edition Discover Your Ancestors 5
---

CHRIS PATON holds a postgraduate diploma in Genealogical Studies from the University of Strathclyde and runs the Scotland's Greatest Story family history research service (www.scotlandsgreateststory.co.uk). He is the author of Down and Out in Scotland: Researching Ancestral Crisis (2015, Unlock the Past), Discover Scottish Church Records (2011, Unlock the Past), Tracing Your Family History on the Internet 2nd ed. (2014, Pen and Sword), and Researching Scottish Family History (2010, Family History Partnership).
Subscribe Now!